Breathable mattresses children
Breathable mattresses for children help them to rest properly and fully relaxed during the night.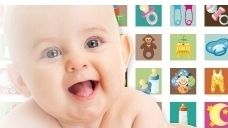 Sleep well and rest for the time required is a fundamental step for the health of all, even more so for children, which must lie on mattresses breathable comfortable and suitable to their structure.
Breathable mattresses children who are part of the catalog Mollyflex are designed and built exclusively for children with special construction techniques based on the use of breathable materials. For children to have a safe and comfortable rest mattresses breathable for children should be monitored and implemented according to the requirements of the UNI 11036: "mattresses for beds for children – dimensional requirements, safety requirements and test methods".

Breathable mattresses children Mollyflex are constructed internally with appropriate materials, and have special fibers breathable high evaporation coefficient even for fabrics of coverage. As regards the specific mattresses of children is also always advisable to combine the mattress a soprafodera that facilitates perspiration and that at the same time both anti-allergic and anti-mite, for the safety of the breathing of the smaller. The materials used for the construction of mattresses breathable children must be non-toxic and anti-allergic and thus need to comply fully with the limits migration of potentially toxic substances. In addition to the safety of small mattresses for children should not have seams dangerous and labels, if any, must be strictly sewn around the perimeter of the structure. present on the surface where it rests the baby accessories such as buttons, laces or flakes.

Breathable mattresses for children breathable Mollyflex are all supplied with the relevant product data sheets, which illustrate, in addition to the specific characteristics of the mattress, even warnings, how to use and all information for maintenance and cleaning, to keep the mattress as new even after using it for a long period.
For more information on breathable mattresses children, on the lines of Mollyflex mattresses, pillows, and for any inquiry please contact us via the form in the Contact section.
---