Folding Box system for cleaning of storage beds
Mollyflex, factory mattresses made in Italy, presents a real technological revolution turned to the world of storage beds: the innovative Folding Box system. The new Folding Box system for storage beds allows you to access easily to the floor under the bed, in order to clean without lifting or moving the structure, always very heavy and awkward to move. This is possible thanks to a bottom panel inside the space-saving box, foldable simply pulling the handle inside the container, without any effort.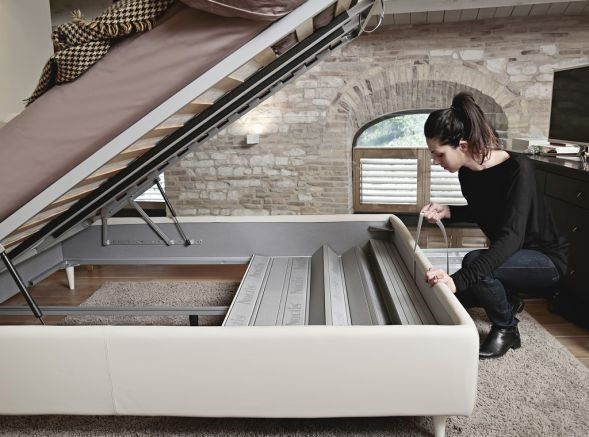 An innovative patent that confirms the continuous research and experimentation of new technological solutions of Mollyflex, in order to ensure the welfare and the most absolute comfort. Thanks to the Folding Box system for the cleanliness of the floor under the beds, in fact, cleaning has never been so easy: the bottom panel becomes foldable and easily collects just before the footboard, leaving the floor completely accessible without having to move bulky and heavy panels or, even, the entire bed structure.
But the Mollyflex revolution does not end here! The Folding Box system for storage beds also includes an Automatic version, thanks to which is possible to open the space-saving box when your hands are busy. Is sufficient in fact a slight movement of the foot to the center of the footboard to actuate a sensor able to open the container compartment in a completely automatic way. In order to close it, then, touch again the sensor thus avoiding accidental automatic closures.
If you want more information on Folding Box system for cleaning under storage beds, contact us now by filling out the form in the Contact section of our site.
---