Roll vacuum mattress with wool merinos
A simple and functional way to reduce clutter and maximize space mattresses Mollyflex: take advantage of the vacuum rolled-up mattress with merino wool. Thanks to this innovative technology you can reduce up to 90% of the space occupied by mattresses merino wool for each retailer, but why not, for the final consumer.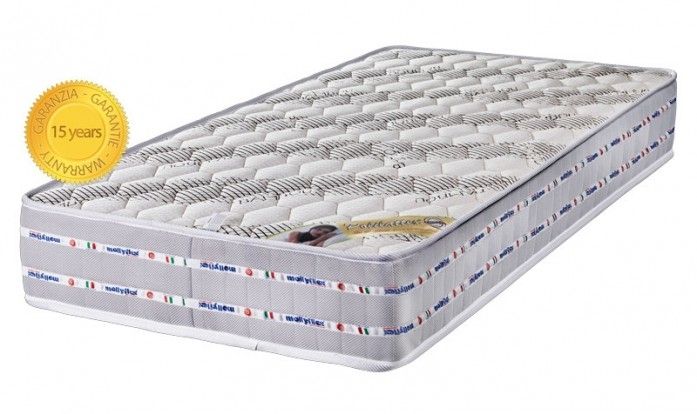 The roll vacuum mattress with merinos wool of Mollyflex, either in double or single, is rolled up and contained in a layer of pvc compression ensures that your dealer and private customers maximum sealing the mattress in addition to the added convenience of transport and placement in warehouse or at home.
The advantage of a convenient transportation of the mattress with merino wool thanks to the vacuum technology is twofold: more convenience and speed in loading and moving the product, feasible even by a single person without the aid of other people or machines, more space optimization during and after transportation. This is because it is possible to carry more rolled mattresses vacuum with merino wool same time, optimizing the space during the loading and unloading of the products.

Another important property guaranteed by the rolled-up mattress vacuum with merino wool Mollyflex is the high hygiene: during the compression phase, in fact, the rolled mattress vacuum is sterilized, and its special closing prevents bacteria, dust, dirt and impurities affect the surface of the mattress.

How to figure out which models are rolled up mattress with merino wool and vacuum? It 's very simple: in the product catalog Mollyflex online it is always indicated with a specific icon, which indicates the possibility of rolling the mattress. Following this statement will be easy to identify among the many models the lines that include the coiled vacuum, which is always possible for all models with merino wool with an internal structure compatible with the rolling.

The rolled-up mattress vacuum with merino wool is so easy and practical to use convenient to carry, hygienic in the invoice, ready to use. The procedure for unpacking, in fact, is very simple: once removed the bag container, the mattress will begin to swell by incorporating air into the fibers. Once placed in a horizontal position, then the rolled-up mattress with merino wool vacuum will become perfect and properly used after less than 24 hours, ready to use for a healthy sleep and healthy.
---