Sale mattresses in memory
Are you looking for a new mattress? Choose mattresses in memory and entrusted to Mollyflex that for over thirty years produces and sells high-tech memory form mattresses.
The memory mattresses, and in particular the Mollyflex Moontex line mattresses made with high-tech viscoelastic materials, have the ability to accommodate the body shapes, in order to allow the perfect adaptation of one's body and absolute comfort for a serene rest. Furthermore, the memory material allows the weight of the body to be distributed, reducing the impact force of the body on the mattress. The memory form mattresses are therefore orthopedic and anatomic mattresses, which bring benefits on the circulation and on the vertebral column.
The perfect adaptation to the shape of the body, the main characteristic of these mattresses, is made possible by the materials used, that is the use of a special foam that is activated with the heat of the body and changes the shape of the mattress according to the position that is assumed. In addition, the memory mattresses are made with padding suitable for different seasons.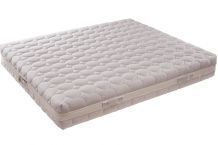 Choosing to buy a memory mattress is a decision that can bring several benefits and be the best choice for healthy sleep. In fact, resting on a memory form mattress allows:
rest naturally, without causing muscle tension
experience a feeling of well-being and lightness
have greater oxygenation of all tissues
maintain a correct position of the spine during sleep and thus bring relief for those suffering from neck pain, hernias or lumbosciatalgia.
The memory form mattresses of Mollyflex are made with moontex, the high-tech viscoelastic material that allows absolute comfort, to the body and consequently to the mind. Among the wide selection of mattresses offered, available at the many stores around the world or on the online shop, you can find:
the Quilted Memo Deluxe, made with the special thermo-silver fabric, with anti-mite and antimicrobial functions
the Phisyotech gel with a biosgel system that relieves the pressures
the Memo Artic, made with materials that allow a quick adaptation of body temperature
For more information and requests on Mollyflex memory form mattresses, please fill in the form in the contact section of the website.
---