Fireproof mattresses for hospitals
Among the many services offered by Mollyflex there is also the sale of fireproof mattresses for hospitals, an important service for the protection of patients forced, unfortunately, to a hospital stay.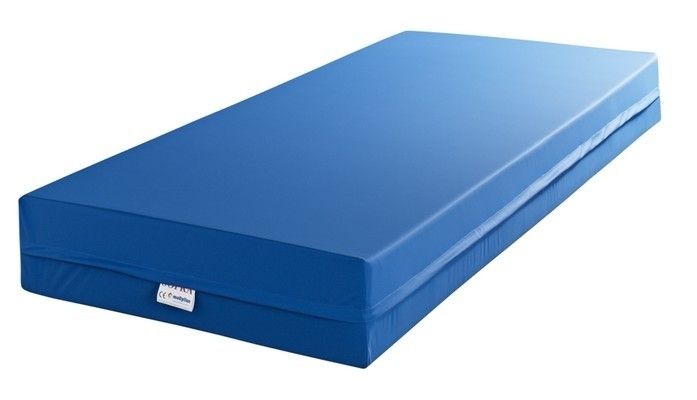 The fireproof mattresses for hospitals, composed of high technology polymer, are part of the line mattresses Firestop, and are made of fabrics and padding which meet the more restricted rules of fire resistance. Thefireproof mattresses for hospitals are certified by the Ministry of Interior, regarding the fire resistance and environmental sustainability. Mollyflex pays particular attention to the production of mattresses for hospitals of the highest quality, especially designed to support and facilitate the weight of people bedridden for much of their day. Designed precisely for the medical-hospital sector, Mollyflex proposes two high quality fireproof mattresses: the fireproof mattress for hospitals Phisyomedand the fire retardant mattress Sanitex. The mattress Phisyomed, made of polyurethane removable, ensures a Class 1 IM certified bedsore system, and it is breathable, non-deformable, hypoallergenic and washable at 95°C. The mattress Sanitex is a fireproof mattress certificate, as the previous, Class 1IM, and made with removable polyurethane foam. The fireproof mattress Sanitex, ideal for hospitals and accommodation, is a product breathable, indeformable and hypoallergenic. All fireproof mattresses for hospitals, finally, are products made from ecological, recyclable and environmentally friendly materials. Finally, Mollyflex is not only ideal for the sale of mattresses, but it is also selected for the supply of other accessories for a good rest, such as pillows, bed frames, armchairs and much more.
If you would like more information about the fireproof mattresses for hospitals, please fill out the form in the Contact section. Our technicians will answer all your questions and information requests very quickly.
---